Rock Island Armory®M1911-A2
$440
The Rock Island Armory®M1911-A2 FSP is an outstanding choice for duty, defense, competition, and concealed carry applications. The Rock Island Armory M1911-A2 FSP is a double stack .45 ACP that has an excellent single action trigger, making repeatable accuracy a breeze. Complete with a GI Trigger, Hammer, Beavertail, Sights, and a Series 70 Firing System, the RIA USA M1911-A2 FSP is a new take on an old friend. $550, comes with one magazine.
GForce® GFPG3 Shotgun
$319
GForce Arms is known for great quality shotguns at very affordable prices, and the GFPG3 is no exception! This pump-action 12GA security shotgun features a 20" fixed choke barrel, 4+1 capacity magazine tube, and synthetic forearm with a 1913 Picatinny rail. The soft pistol grip inceases user comfort and control, and the padded stock features a 5-round shellholder built in. A real bargain at only $319. Also available with non-pistol grip stock!
TASER Pulse+
$399.95
The TASER Pulse+ brings safety in today's connected world. Using the same less-lethal technology as law enforcement, the Pulse+ integrates with your mobile phone via the Noonlight mobile app to contact emergency dispatch when fired. No fumbling for the phone or freezing up in fear. Pull the trigger and help is on the way. Weighing in at just 8 ounces, this high-tech, intuitively-designed device is revolutionizing the self-defense market. You're fast-paced and connected. Your self-defense tool should be too. In stock now for only $399.95.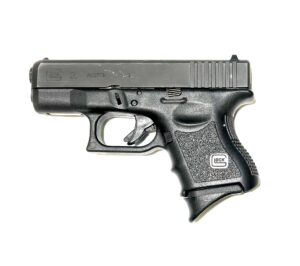 "Pre-Ban" GLOCK® Pistols
Looking to buy a GLOCK pistol in Massachusetts? We frequently carry GLOCK pistols that are fully compliant with Massachusetts regulations, and can be sold to anyone with a Massachusetts resident License to Carry. Please check out our Pre-Owned Inventory page for a full list of current inventory at very competitive prices!