We Are Open
During this time of national crisis, Pioneer Valley Arms is committed to supporting our Second Amendment rights, while also implementing measures to help ensure the health and safety of our community. Please visit https://pioneervalleyarms.com/covid-19-policies/ for details on these current policies.
If you have any questions regarding these temporary measures, please email us at info@pioneervalleyarms.com.
Thank you for your continued patronage. We look forward to seeing you soon!
S&W M&P®45 Shield M2.0™
$440
The reality of protection is that you never know when you'll need it.  The M&P Shield is an easy to conceal pistol that offers professional grade features with simple operation and reliable performance day or night.  One million Shield owners can't be wrong. $440, comes with two magazines.
Dark Storm Industries® DS-15 Fixed Mag Lower
$209
The DS-15 FX Billet Lower Receiver is compliant for all 50 states including NY, CT, MA, NJ, and CA. This AR-15 style stripped lower receiver is milled from 7075 Billet Aluminum with black Mil-Spec Type III Hardcoat Anodized Finish, and features a grooved mag well grip, enlarged integral trigger guard, and a set screw retained PMAG® 10 Round Magazine attached inside the receiver. Compatible with standard AR-15 components, including drop-in triggers, stock assemblies, upper receivers, and much more. Ready to accept a standard lower parts kit! In stock now for only $209.
Savage® Rascal
$179
The Rascal is the industry's safest micro-rimfire. Shooters cock the rifle by lifting the bolt and unload without pulling the trigger. The platform builds superior shooting skills thanks to full-size rifle features, including adjustable peep sights and Savage's user-adjustable AccuTrigger™. A real bargain at only $179.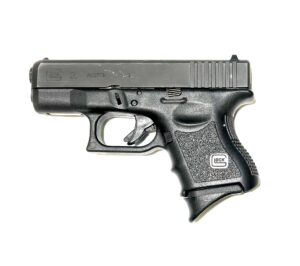 "Pre-Ban" GLOCK® Pistols
Looking to buy a GLOCK pistol in Massachusetts? We frequently carry GLOCK pistols that are fully compliant with Massachusetts regulations, and can be sold to anyone with a Massachusetts resident License to Carry. Please check out our Pre-Owned Inventory page for a full list of current inventory at very competitive prices!