Canik® TP9SF Elite

$419
The TP9SF Elite features a 4.19" barrel and shorter overall grip, providing a smaller, concealable carry option with a 10+1 round capacity. Loaded with custom features and advanced finishes, the TP9SF Elite is the sidearm you can count on for self defense. Includes two magazines with a corrosion-resistant AFC coating, Patented Slidelock Retention Holster, and hard case for $419.
GForce® GFPG3 Shotgun
$319
GForce Arms is known for great quality shotguns at very affordable prices, and the GFPG3 is no exception! This pump-action 12GA security shotgun features a 20" fixed choke barrel, 4+1 capacity magazine tube, and synthetic forearm with a 1913 Picatinny rail. The soft pistol grip inceases user comfort and control, and the padded stock features a 5-round shellholder built in. A real bargain at only $319. Also available with non-pistol grip stock!
Taurus® G3c
$299
The all-new Taurus® G3c delivers the ultimate balance of power and performance for any self-defense situation. The steel sights can be easily upgraded with many "Glock" compatible sights, in stock at our store. The G3c comes with 3-10rd magazines for only $299.
S&W M&P® 380 Shield™ EZ®
$409
Built for personal protection and every-day carry, the M&P380 Shield EZ is chambered in 380 Auto and is designed to be easy to use, featuring an easy-to-rack slide , easy-to-load magazine, and easy-to-clean design. Built for personal and home protection, the innovative M&P380 Shield EZ pistol is the latest addition to the M&P M2.0 family and provides an easy-to-use protection option for both first-time shooters and experienced handgunners alike. $409, comes with two magazines.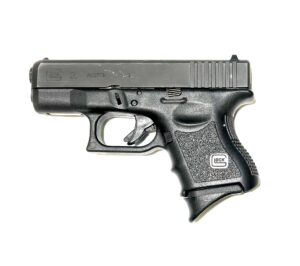 "Pre-Ban" GLOCK® Pistols
Looking to buy a GLOCK pistol in Massachusetts? We frequently carry GLOCK pistols that are fully compliant with Massachusetts regulations, and can be sold to anyone with a Massachusetts resident License to Carry. Please check out our Pre-Owned Inventory page for a full list of current inventory at very competitive prices!